Gamify Onboarding – Make New Employee's Learning Process Fun
Starting a new job is an exciting milestone for many people. But with so much to learn about the company and so many new faces to remember, it can also be equally overwhelming to be the new kid on the block. You can help your new hires get acclimated to their team and the organization as a whole by "gamifying" your onboarding process to make training fun, rewarding, and interactive.
What is employee gamification, and how can you use it to make onboarding more engaging? We'll break it down for you in this article and share a few ideas to help you gamify onboarding at your organization.
What Is Employee Gamification?
Employee gamification is a strategy that uses game-based elements such as competition, scores, and rewards to boost morale and motivate employees to complete tasks. It has become a trending topic in recent years, especially as technology advances and more tools become readily available to help employers introduce gamification in the workplace.
In fact, employee gamification is growing more impactful each year. In 2019, 87 percent of surveyed employees said game elements make them feel more socially connected and provide a sense of belonging at work. This is up from 81 percent in 2018, and the rapid growth will likely continue in the future.
And that's not all—there are several other benefits to implementing employee gamification. The data doesn't lie: 90 percent of employees said they are more productive when they engage in some form of gamification at work. Gamification can be used in many ways to engage employees and improve productivity, but one of the most effective approaches is to gamify onboarding.
Gamifying the Onboarding Process
Having a great onboarding process is essential to setting new employees up for on-the-job success. But according to Sapling, the average new hire has 54 activities to complete during their onboarding experience. With so many tasks to complete in the first few weeks, even the most motivated new hires can struggle to retain important details about their company, role, and team.
That's where employee gamification comes in. By finding ways to gamify onboarding, you can encourage new hires to actively participate in training activities. Think about it: What are employees more likely to remember—a boring PowerPoint deck or an interactive onboarding game? Game-based training leads to better outcomes, resulting in higher retention rates and generating continuous feedback on performance.
Examples of Gamification in the Workplace
Companies are figuring out that gamification at work—especially during onboarding and other types of training—has a significant impact on employee engagement, enthusiasm, and overall performance.
Marriot developed a recruitment game called My Marriott Hotel. Marriott applicants would be asked to manage a virtual hotel where they would gain points for happy customers, and lose points for dissatisfied customers. At the end of the game they would be rewarded for how profitable their virtual hotel was. This game helped recruiters understand the level of of applicants' professionalism, and increased the number of applicants by standing out as a fun window into what working in a hotel would be like.
Deloitte is a great example of an organization that uses employee gamification to onboard new hires. In 2018, the company created an onboarding game for new analysts. The theme? Zombie apocalypse. The content? Training activities that focused on important consulting skills and software. Not surprisingly, the game was a big hit with new hires—and Deloitte ultimately reaped the reward of an annual reduction in analyst onboarding costs.
The two examples of gamification above took a lot of time and effort to build out. Sometimes the best games are low tech, and easy to understand. One example of easy to implement gamification was performed by Lawley Insurance. Their SalesForce pipeline was messy, deals were stuck in the "nurturing" stage, calls and meetings were not being logged. To fix this Lawley connected their SalesForce to the app LevelEleven to gamify closing out deals, and booking calls and meetings. Points were awarded to sales employees when they accomplished a targeted task in SalesForce, then rewards were given to employees who acquired the most points.
Creative Ways You Can Gamify Onboarding for New Hires
There are tons of approaches you can take to gamify the onboarding process for new hires. For example, you might consider awarding points for the completion of certain onboarding activities or implement challenges in which the lowest time to completion wins. These simple games can go a long way in motivating your new hires and helping them adapt to the company culture.
Here are some more fun ways to make a game out of your onboarding process.
1. Perform a scavenger hunt using your org chart software.
One of the hardest parts of onboarding is getting to know coworkers and learning who does what in the organization (not to mention remembering names!). A scavenger hunt is a great way to ease the get-to-know-you process for new hires. Using org chart software like Pingboard, you can create a game that tasks employees with searching for people in specific departments, filtering by different attributes, hobbies, and more.
Here's an example of a searchable org chart that your company can use for this scavenger hunt.
Create a better onboarding experience by adding your employee data to this org chart template!
Like the idea, but unsure of where to start? We put together an onboarding scavenger hunt list that you can download here for free!
2. Review projects in the company's project management system.
Another fun employee gamification idea is to task employees with reviewing projects in a project management system such as Trello or Teamwork. You can challenge them to complete activities that help them learn how to use the system. For example, ask them to search for a specific project by name, determine who owns the project, and see what the deadline is. They can also leave a comment and complete a sample task within the system.
3. Build a webpage in the content management system.
Our next idea for gamifying onboarding is to share instructions on how to build a page in your company's content management system (CMS). Create a CMS tutorial that includes all of the helpful features for managing your site, such as building a call to action (CTA) and any required tracking. Next, challenge employees to complete tasks in the system using the tutorial as a guide. For example, they can create a CTA; make a page private; and locate the company's font, its color scheme, its logo, and any other important design assets in the CMS.
4. Get familiar with the company's HR software.
How about gamifying your company's human resource information system (HRIS) software? Whether it's Workday, BambooHR, or another HRIS entirely, you can create a little game out of finding and completing onboarding activities. Maybe employees can earn rewards for figuring out where to set up a 401(k), insurance, and direct deposit. They can also learn how to change personal details, such as their address, phone number, and emergency contact information.
5. Play Pingboard's "Who's Who?" flash card game.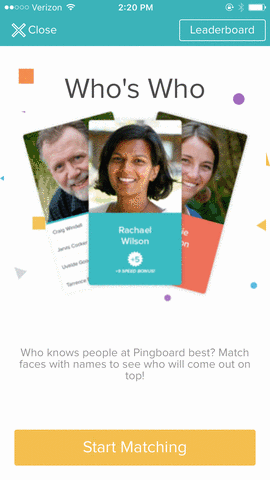 Pingboard's "Who's Who?" flash card game is a fun, interactive way for new employees to put faces to names. By playing a simple flash card matching game, they can learn who does what in the organization in a way that's engaging—not overwhelming, like trying to remember every person they meet for the first time! Along with matching faces and names, employees will learn positions, tenure, skills, interests, locations, and more about people on the team.
Step Up Your Onboarding Game with Gamification at Work
By finding ways to gamify your onboarding process, you can inspire new hires to learn about everything from the company and their department to their coworkers and systems. Offering fun, engaging incentives to reward employees for completing tasks will help you engage new hires, increase employee retention, and improve the effectiveness of your onboarding program.
Fill out the form below to download our Employee Onboarding Scavenger Hunt Game
blog comments powered by

Disqus